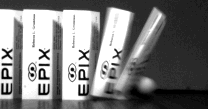 The 4MEG VIDEO supports high frame rate cameras, allowing economical freeze motion studies of webs, processes, and devices.

These examples were captured with an EPIX 4MEG VIDEO Model 10 and Area Scan Interface card (CINTF4-CAD1), using a Dalsa CA-D1-0256 camera with 256x256 resolution at 220 frames per second.

The examples show a line of business cards, stood domino fashion, being toppled by a thrown ball. The lines visible in the foreground are intentional--the table's wood grain.

---
Application Literature - Examples of Uses for EPIX Products

Image Processing Products For Research and Industry