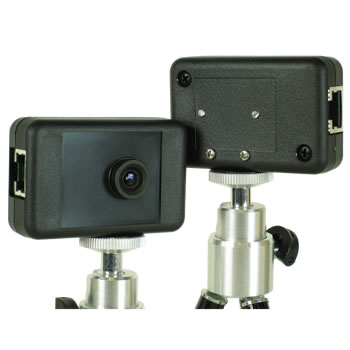 SV022C and SV022M cameras feature small size and LVDS differential digital video output. Images with 8 or 10 bits per pixel, 752H by 480V, 60 frames per second are captured by the high performance On-Semi MT9V022 image sensor's 10 bit A-D converter and serialized for image transmission. The Low Voltage Differential Signal output of the camera can drive up to 5 meters of cable to the host computer. Five to twelve volt DC power and I2C control signals for the camera are sent over a category 5e cable with RJ45 connectors. A global shutter stops moving targets without rolling shutter image effects.
The SV022 uses a plastic case that is 2.50 inches long by 1.65 inches high and 0.81 inches deep (63.50 mm L x 41.75 mm H x 20.60mm D). The M12 lens outer end is typically 0.5 inches (12.7mm) from the front of the case when the lens is at infinity. A standard 1/4 - 20 tripod mount is located on the long side of the case.
The SV022 was designed for use with a Xilinx Video Development Kit. Other versions of the SV022 can be made for OEM requirements. Contact EPIX, Inc., or an authorized distributor of EPIX® imaging products for more details.
Optical Format:
1/3-inch
Active Image Size:
4.51mm(H) x 2.88mm(V)
5.35mm Diagonal
Active Pixels:
752H x 480V
Pixel Size:
6.0µm x 6.0µm
Color Filter Array:
Monochrome or Color RGB Bayer Pattern
Shutter Type:
Double-Buffered Global Shutter
Maximum Data Rate:
324 Megabits per second
Master Clock:
27 MHz
Full Resolution:
752 x 480
Frame Rate:
60 fps (at full resolution)
ADC Resolution:
10-bit
Responsivity:
4.8 Volts/Lux-sec (550nm)
Dynamic Range:
>55dB linear;
>80dB-100dB in HiDy Mode
Supply Voltage:
5 Volts
Power Consumption:
320 mW at maximum data rate
Operating Temperature:
−40°C to +85°C
Camera Dimensions:
2.50" L x 1.65" H x 0.81" D
63.50mm L x 41.75mm H x 20.60mm D
Weight:
1.4 oz / 39 grams
Typical Quantum Efficiency - Color
Typical Quantum Efficiency - Monochrome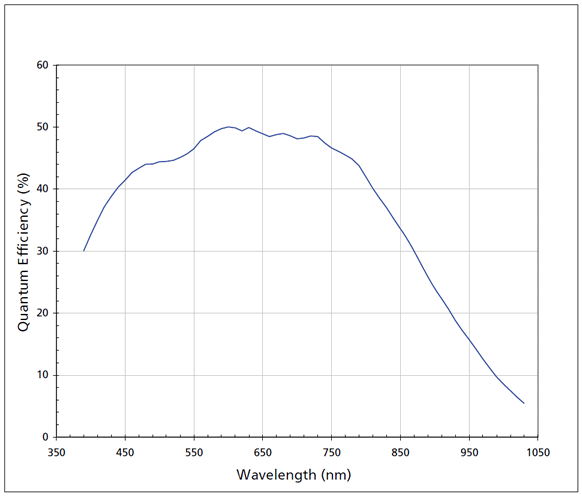 ---