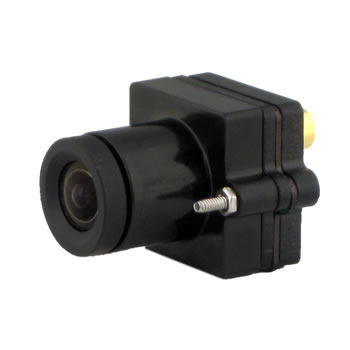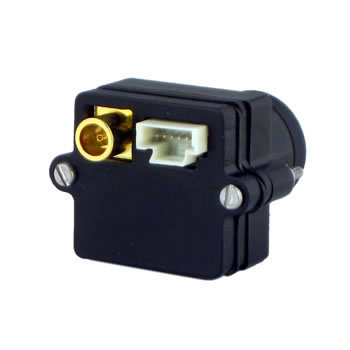 The SV035B camera features a very small size and NTSC or PAL analog video output over RG-179 coax. The SV035B uses a high performance On-Semi MT9V135 image sensor with a 640H by 480V pixel array to generate images at 30 fps 720H by 480V (NTSC), or 25 fps 720H by 576V (PAL).
A rolling shutter provides integration from 16 microseconds to 33 milliseconds (NTSC) or to 40 milliseconds (PAL).
Five to twelve volt DC power and I2C control signals for the camera are sent over a twisted pair cable to the camera via a rear Molex connector.
The SV035B uses a plastic front case for light weight and an aluminum back cover. The case is 0.80 inches long (not including the M12 lens), by 1.05 inches wide and 0.80 inches high (20.31mm L x 26.62mm W x 20.36mm H). Two 1.6 mm screws may be used for mounting the camera. An aluminum front case is in development.
The SV035B was developed as a compact camera for use with a PIXCI® SV7 frame grabber or other video equipment. Other versions of the SV035B can be created for OEM imaging requirements. Contact EPIX, Inc., or an authorized distributor of EPIX® imaging products for more details.
Optical Format:
1/4-inch (4:3)
Active Image Size:
3.63mm(H) x 2.78mm(V)
4.57mm Diagonal
Active Pixels:
640H x 480V
NTSC output:
720H x 486V
PAL output:
720H x 576V
Pixel Size:
5.6µm x 5.6µm
Color Filter Array:
RGB paired Bayer Pattern
Shutter Type:
Electronic Rolling Shutter (ERS)
Maximum Data Rate:
13.5 Megapixels / second
Master Clock:
27 MHz
Frame Rate
(VGA 640H x 480V):
30 fps at 27 MHz (NTSC)
25 fps at 27 MHz (PAL)
Integration Time:
16 µsec - 33ms (NTSC)
16 µsec - 40ms (PAL)
ADC resolution:
10-bit, on-chip
Responsivity:
5 Volts/Lux-sec (550nm)
Pixel Dynamic Range:
70dB
SNRMAX:
39dB
Supply Voltage:
+5 to +12 Volts
Power Consumption:
320 mW
Operating Temperature:
−30°C to +70°C
Power Consumption:
320 mW
Camera Dimensions:
0.80"L x 1.05"W x 0.80"H
20.31mm L x 26.62mm W x 20.36mm H
Typical Quantum Efficiency
PRICING
---