High Frame Rate Acquisition

The PIXCI® D imaging boards support high frame rate cameras, allowing economical freeze motion studies of webs, processes, and devices.
This image sequence was captured with a PIXCI® D Imaging Board and a Dalsa CA-D1-0256A camera with 256x256 resolution at 220 frames per second.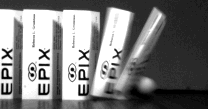 The sequence shows a line of business cards, stood domino fashion, being toppled by a thrown ball. The lines visible in the foreground are intentional - the table's wood grain.
The images were processed by EPIX XCAP Software.

---