Front of HAS21 board camera showing
the HAS2 monochrome sensor.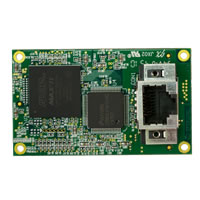 Back of HAS21 board camera showing
the RJ45 cable socket.
The HAS21 board camera uses a High Accuracy Star Tracker (HAS) Version 2 CMOS Active Pixel image sensor which provides 1024 pixel by 1024 line images with 12 bits per pixel at 9 frames per second.
This board camera is ideal for evaluating the HAS21 sensor for space imaging applications and is supported by PIXCI SI1, SI2, and SI4 frame grabbers for 1, 2, or 4 camera capture in one PCI Express bus slot.
XCAP software provides control for exposure, area of interest, frame rate, trigger selection, and pixel clock frequency.
Camera without sensor priced at $1495.00. Sensor available at market price. Contact EPIX, Inc., or an authorized distributor of EPIX® imaging products for more details.
| Resolution | 25 MHz | 32.5 MHz | 40 MHz |
| --- | --- | --- | --- |
| 1024 × 1024 | 5.7 | 7.4 | 9.1 |
| 1024 × 768 | 7.6 | 9.9 | 12.2 |
| 800 × 800 | 9.3 | 12 | 14.8 |
| 800 × 600 | 12.3 | 16 | 19.7 |
| 640 × 640 | 14.3 | 18.6 | 22.9 |
| 640 × 480 | 19 | 24.7 | 30.5 |
| 320 × 320 | 53.8 | 69.8 | 85.9 |
| 320 × 240 | 71.7 | 92.9 | 114 |
| 8 × 1024 | 123 | 156 | 197 |
| 120 × 120 | 319 | 412 | 507 |
| 120 × 90 | 424 | 546 | 672 |
| 64 × 64 | 909 | 1164 | 1432 |
| 64 × 46 | 1256 | 1599 | 1968 |
| 1024 × 2 | 1945 | 2528 | 3112 |
| 8 × 2 | 37878 | 49242 | 60606 |
SPECIFICATIONS
SV HAS21 CAPTURE & ADJUST DIALOG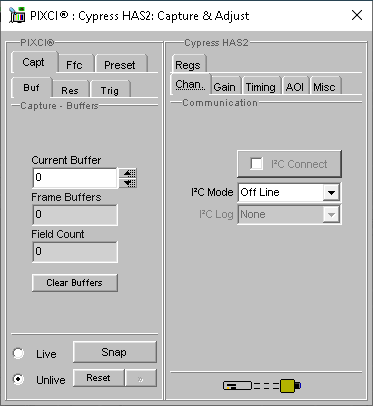 Sensor:
ON-Semi NOIH2SM1000T-HHC
with BK7G18 radiation resistant optical glass


(Formerly Cypress CYIH1SM1000AA-HHCS)

Full Resolution:
1024 × 1024
Master Clock:
10 MHz
Frame Rate:
9 fps
ADC Resolution:
12-bit
Pixel Size:
18.0µm × 18.0µm
Shutter Type:
Electronic Rolling Shutter
Dynamic Range:
69 dB
Spectral Range:
400 nm to 1000 nm
Operating Temperature:
−0°C to +60°C
Dimensions:
2.4 in. by 1.4 in. PCB size
Other Features:
Radiation Tolerant
Sensor Tested to Space Qualified Device Standards
Region of Interest Windowing
On-chip Fixed Pattern Noise Correction
---