Smallest Full Camera Link Frame Grabber
Applications
Airborne
Automotive
Drone
Industrial
Mobile
Rugged
Underwater
Frame Grabber
MDR or SDR connector
Base Camera Link
Medium or Full Camera Link
Data rates up to 1370 megabytes per second
Line Scan or Area Scan Cameras
Supports more than 1000 different camera models
Camera frame rate sequence capture
Triggered image sequence capture
Camera Integration & Async Reset Control
LVTTL Trigger In and Strobe Out
Interface
PCIe x4 M.2 M 2280 slot
64-bit memory addressing
1370 megabyte per second sustained data transfer
Software
XCAP-Lite image capture, display, and save program included
Capture video to computer memory with XCAP-LTD
Stream video to disk with XCAP-STD
XCLIB programmer libraries for frame grabber and camera control
PXIPL image processing, measurement, and analysis libraries
3rd Party software available
Windows & Linux, 32 & 64–bit
The PIXCI® mf2280 camera link frame grabber uses internal M.2M 2280 slots in small computer systems. Space constraints typically require routing of cables to a side of the case or to a nearby camera. Flexible cables are used to facilitate routing.
SPECIFICATIONS
Performance (Supports the camera's maximum):
Horizontal Resolution
Vertical Resolution
Frame Rate
Bit Depth
Signal Input & Output:
Pixel clock frequencies from 20 to 85 megahertz
Data Transfers:
Supports cameras with data output rates up to 1370 megabytes per second
64 bit memory addressing
Bus Requirement:
PCIe x4 M.2 M Slot
Supports 2280 Slot Length Only
Connectors:
Two 26 pin MDR or SDR camera link connectors
10 pin header for Trigger, Frame Enable, Strobe, and General Purpose I/O
Power Requirements:
250 ma from 3.3v
Optional PoCL draws up to 800 ma from local 12v supply
Certifications:
CE Compliant
ROHS Compliant
EPIX Software Support:

Supported by XCAP-Lite (no charge with board purchase), XCAP-Ltd, XCAP-Std, XCLIB, and XCLIBIPL.
Compatible with 32-bit & 64-bit Windows 11, 10, 8, 7, Vista, XP, 2000, LINUX, and 32-bit DOS. Windows Media Foundation (DirectShow) and Video for Linux (V4L2) drivers are included with all versions of XCAP. TWAIN drivers available.
EXAMPLE CONFIGURATIONS
PIXCI® mf2280 with NVIDIA Xavier NX
The PIXCI® mf2280 Camera Link frame grabber can be installed in the M.2M slot on the bottom of the NVIDIA Xavier NX developer kit.
Paired with a PIXCI® mf2280, the Jetson Xavier NX is perfect for high-performance AI systems like commercial robots, medical instruments, smart cameras, high-resolution sensors, automated optical inspection, smart factories, and other AIoT embedded systems.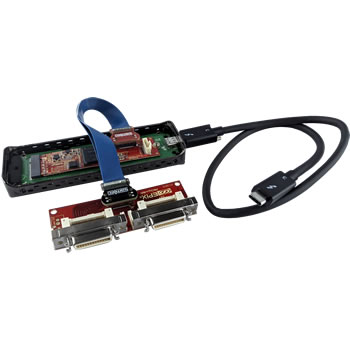 The PIXCI® mf2280 works with Thunderbolt 3 M.2 adapters for a very mobile solution.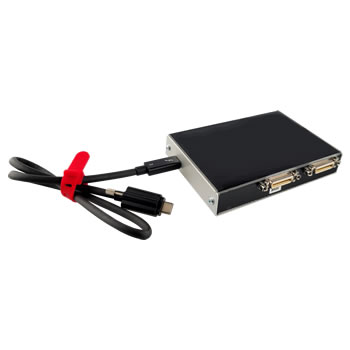 The PIXCI® mf2280c has been integrated into an enclosure with the Thunderbolt 3 adapters.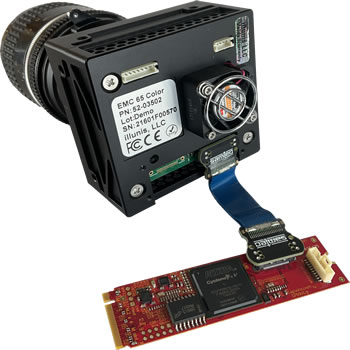 illunis EMC camera versions are available that connect directly to the PIXCI® mf2280.
PRICING
---