SILICON VIDEO
®

10C6, 10M6
10 Megapixel Cameras
Camera Sensor Features
10 megapixel monochrome or color camera
3840 × 2764 resolution (more than 5 times HD resolution) at up to 6.2 fps.
Reduced resolutions provide faster frame rates.
Up to 12 bits (4096 intensity levels) per pixel or color.
Capture & Save scientific quality uncompressed images or sequences.
Windowing reduces resolution to an area of interest and gives a faster frame rate.
Mirroring changes image read out order to flip the image.
Column Skip and Row Skip reduce resolution without reducing area of interest.
Electronic Rolling Shutter (ERS) mode provides maximum frame rates.
Global Reset Release provides simultaneous reset of all pixels followed by exposure and read out. For use with a strobe or mechanical shutter.
Asynchronous Capture with Strobe Out.
Physical Features
Compact camera head.
Infrared cut filter.
Single interface cable carries power, camera controls, programmable pixel clock, and video.
Includes C-mount lens adapter with easily-adjustable flange distance.
Low noise digital signaling and a pixel clock range of 25 – 70 MHz.
RoHS Compliant
Frame Grabber Support
Software Support
Camera integration and reset control.
Sequence capture.
Sequence save (XCAP-Ltd or Std).
Triggered sequence capture.
Extensive processing, measurement, and analysis capabilities.
XCAP software provides convenient control of all camera operations including pixel clock frequency, integration/exposure time, resolution, and more.
XCAP dialog for the SV10C6 Bayer Pattern color camera provides automatic white balance, manual adjustment of Red, Green, and Blue gain, and extensive color balance controls.
Windows & Linux, 32 & 64–bit .
Misc
Add a ½" C-Mount lens, programmer libraries, image processing, or video-to-disk and image analysis software
EPIX, Inc., offers complete imaging systems, built to your specifications, with cameras, frame grabbers, high performance motherboards, and RAID arrays for video to disk capture.
FEATURES
Sequence Capture with SV10C6 & SV10M6 Cameras and XCAP Imaging Program Versions
SV10C6 CAPTURE & ADJUST DIALOG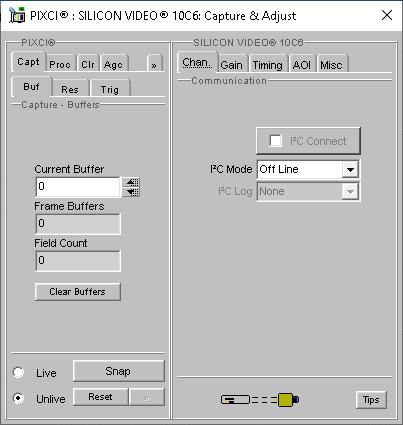 SILICON VIDEO® SV10C6 and SV10M6 cameras will capture continuously, at various resolutions and frame rates, as shown in the chart below.
XCAP-Lite will capture for 0.97 seconds at 3840 × 2764 resolution, 8 bits per pixel, 6.2 fps. Images must be saved individually. XCAP-Lite is included with the PIXCI SI series frame grabbers.
The XCAP-Ltd program captures and saves sequences for 2 minutes into 8 GBytes of available memory (computer must have approximately 12 GBytes of installed memory). XCAP-Ltd is $495.
The XCAP-Std imaging program offers video to disk capture, which can allow continuous capture for hours depending on the capacity of the computer's storage system. XCAP-Std is $1495.
Select which version of the XCAP program is best for your application by reviewing the description on the XCAP product page.
Video-To-Disk Capture
The optional XCAP-Std imaging program enables video-to-disk capture. Requires a host computer with storage system capable of handling desired image capture rates and duration. EPIX® offers complete imaging systems, designed to your specifications, guaranteed to capture uncompressed video to disk without dropping frames.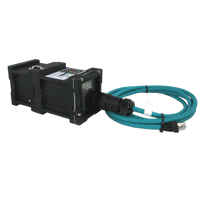 The Type-MX VideoModule ruggedized enclosure system from Tectivity, Inc. is available for SILICON® VIDEO cameras.
Contact EPIX, Inc., or your authorized EPIX, Inc. distributor, with your system requirements.
SPECIFICATIONS
Optical Format:
1/2.3-inch
Active Image Size:
6.41mm(H) × 4.62mm(V)
7.90mm Diagonal
Full Resolution:
3840H × 2764V
Pixel Size:
1.67µm × 1.67µm
Color Filter Array:
Monochrome or Color RGB Bayer Pattern
Shutter Type:
Electronic Rolling Shutter
Pixel Clock:
25 - 70 MHz
Frame Rate:
6.2 fps @ 70MHz (3840H × 2764V resolution)
ADC Resolution:
12-bit
Responsivity:
0.31 Volts/Lux-sec (550nm)
Dynamic Range:
65.2dB Linear
Supply Voltage:
5 Volts
Power Consumption:
< 638 mWatt at maximum data rate
Operating Temperature:
-40°C to +85°C
Camera Dimensions:
1.91" H × 1.51" W × 0.82" D
48.5mm H × 38.4mm W × 20.8mm D
Weight:
2.6 oz / 73 Grams
SV10C6 & SV10M6
Color/Monochrome Cameras
Frame
Resolution
Pixel Clock Frequency
25 MHz
Slowest
48 MHz
Default
70 MHz
Fastest
3840 × 2764
2.2 fps
4.2 fps
6.2 fps
3840 × 2160
2.8 fps
5.4 fps
7.8 fps
3686 × 2764
2.3 fps
4.4 fps
6.4 fps
3488 × 2616
2.6 fps
4.9 fps
7.2 fps
2592 × 1944
4.5 fps
8.7 fps
12.7 fps
2928 × 1646
4.7 fps
9.0 fps
13.1 fps
2048 × 1536
7.1 fps
13.6 fps
19.9 fps
1920 × 1080
10.4 fps
19.9 fps
29.1 fps
1280 × 1024
16.1 fps
31.0 fps
45.2 fps
3840 × 2
44.4 fps
85.2 fps
124.2 fps
EPIX SOFTWARE Support -
Supported by XCAP-Lite (no charge with camera purchase), XCAP-Ltd, XCAP-Std, XCLIB, and XCLIBIPL.
Compatible with WIN 10, 8, 7, Vista, XP, 2K, NT, ME, 98, 95; DOS and LINUX.
SILICON VIDEO® 10C6 Color Camera
Typical Quantum Efficiency

SILICON VIDEO® 10C6 Monochrome Camera
Typical Quantum Efficiency

PRICING
---