Embedded Full, Medium, or Base Camera Link Frame Grabber
Smallest embedded full, medium, or base camera link frame grabber with connectors at the end of flat cables for flexible connector mounting in a chassis. Plugs into a half-length mini PCI express card slot via a flat Samtec cable. PIXCI miniH2F-L captures digital video from any full, medium, or base camera link camera and burst transfers images to the mini PCIe bus at 500 megabytes per second with sustained rates of 409 megabytes per second. Includes software to capture, view, and store images.
Features
Plugs into any mini PCIe slot
5 gigabit per second burst transfer rate
409 megabytes per second sustained transfer rate
Two 26 pin MDR or SDR camera link connectors
Image data DMA transferred to host memory
64 bit memory addressing
Capture
From a full, medium, or base camera link camera
From line scan or area scan cameras
From monochrome or color cameras
Individual lines or frames
Continuous video
Triggered image sequences
Trigger and I/O
Camera exposure and asynchronous reset control
Trigger input and strobe output
Frame enable input and frame output
Two general purpose inputs and two outputs
Options
Software
XCAP-Lite image capture, display, and save program included
XCAP-LTD captures video sequences to host memory
XCAP-STD streams video to host disk drives
XCLIB programmer libraries for custom capture and control
PXIPL image processing, measurement, and analysis libraries
3rd Party software available
Windows & Linux, 32 & 64–bit
The PIXCI® miniH2B-L camera link frame grabber uses internal PCI Express Mini Card slots in small computer systems. Space constraints typically require routing of cables to a side of the case or to a nearby camera. Flexible cables are used to facilitate routing.
BUS ADAPTER OPTIONS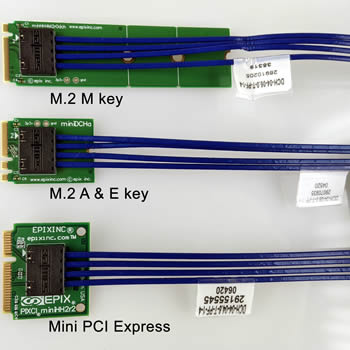 M.2M and M.2A & E bus interface boards are now available for the PIXCI® miniH2B, minih2F, miniH2BL and miniH2FL frame grabbers. Please contact us for ordering details.
SPECIFICATIONS
Performance (Supports the camera's maximum):
Horizontal Resolution
Vertical Resolution
Frame Rate
Bit Depth
Signal Input & Output:
Pixel clock frequencies from 20 to 85 megahertz
Bus Requirement:
PCI Express Mini Card slot Gen 2 or better
(Will operate in Gen 1 at reduced data rate)
Data Transfers:
Gen 2 data rates (409 megabytes per second)
Gen 1 data rates (200 megabytes per second)
64 bit memory addressing
Connectors:
Two 26 pin MDR or SDR camera link connectors
10 pin header for Trigger, Frame Enable, Strobe, and General Purpose I/O
3.3 volt LVTTL signal levels on 10 pin header
Power Requirements:
12 volts at 250 milliamps
Dimensions:
miniH2F-L: 1.69 inches (42.92mm) by 2.42 inches (61.46mm)
connectors: 1.19 inches (30.3mm) by 1.52 inches (38.7mm)
mini PCIe: 1.055 inches (26.79mm) by 1.182 inches (30mm)
Weight:
Main board: 0.9 oz, 26 grams
Cable: varies with length
Certifications:
CE Compliant
ROHS Compliant
EPIX Software Support:

Supported by XCAP-Lite (no charge with board purchase), XCAP-Ltd, XCAP-Std, XCLIB, and XCLIBIPL.
Compatible with 32-bit & 64-bit Windows 11, 10, 8, 7, Vista, XP, 2000, LINUX, and 32-bit DOS. Windows Media Foundation (DirectShow) and Video for Linux (V4L2) drivers are included with all versions of XCAP. TWAIN drivers available.
PRICING
---